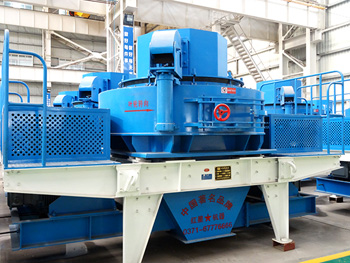 Sand maker is suitable for crushing and reshaping soft materials or medium hard extremely hard materials and it is of particular higher efficiency and productivity in crushing dead-hard, extra-hard and corrosion-resistant materials such as, silicon carbide, carborundum, sintered bauxite, magnesia and so on.
Working principle of Sand Maker
The materials vertically fall into the high-speed rotating impeller from the upper part of the machine, and impact and smash with each other under the centrifugal force. After impacting and crushing, the materials will form vortex between the impeller and the cabinet, and then be straightly discharged from the lower part, forming the closed-loop cycles. The screening device can be used to control the granularity of finished products.
VSI Sand Maker
VSI sand maker is the latest type of sand making machine which can save energy by over 50% than traditional sand maker. It is able to crush all kinds of rocks, gravels and river cobbles into building sand conforming to the desired granularity, the final sand is even in granularity and high in compression strength, so that it better conforms to the construction requirement than natural sand and the sand produced by common hammer type sand maker and better improves the quality of the buildings. This equipment has many features such as reliable performance, reasonable design, convenient operation and high working efficiency.
Leave Message
Thank you for your interest in Hongxing Machinery. If you have a question about our products, we'd like to hear from you. Please fill out the email form below or call us directly on +86-371-67833171. Rest assured we won't share your name, address or phone number with anyone. We're passionate about our company and want to help any way we can. Thanks for taking the time to get in touch with us.