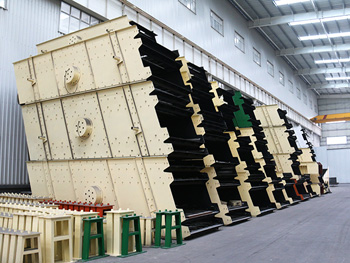 Circular Vibrating Screen
Production Capacity:8-800m³/h
Vibrating power: 800-970r/min
Max. feeding size: 400mm
Screen size: 4-100mm
Motor power: 5.5-22×2kw
Product Description
The circular vibrating screen is a vibrating screen with high efficiency and it advantages include stable structure, strong exciting force, high efficiency, low vibrating noise, durability, handy maintenance and safe operation. Circular vibrating screen has been widely used in mine, construction, transportation, energy, chemistry and other industries.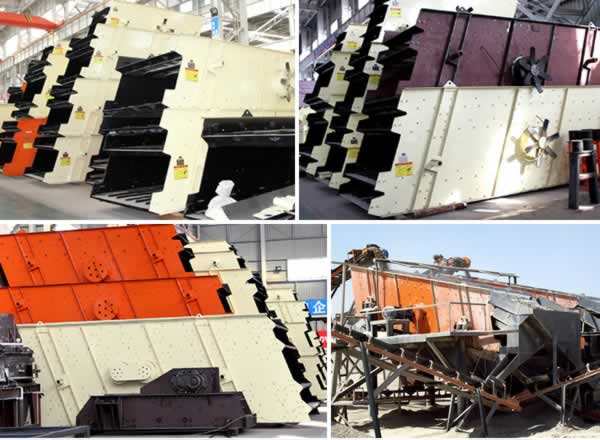 Composition
Circular vibrating screen is mainly composed of screen box, exciter, suspension (or support) system, electric motors and other components. The V-belt of the electric motor can drive the vibration exciter spindle to rotate, and the centrifugal inertia force of imbalanced weight on the vibration exciter can make the screen box to vibrate. Changing the eccentric weight of vibration exciter can get different amplitude.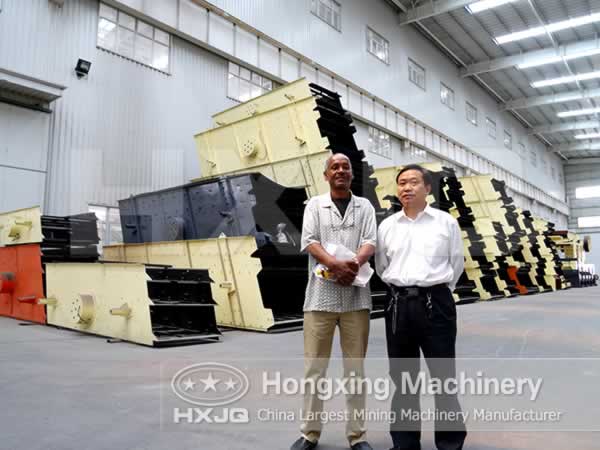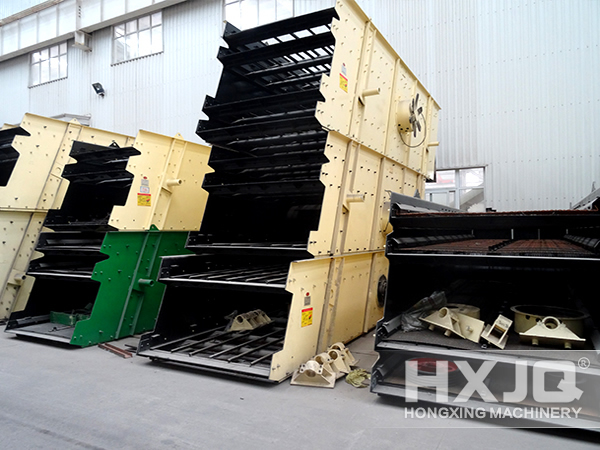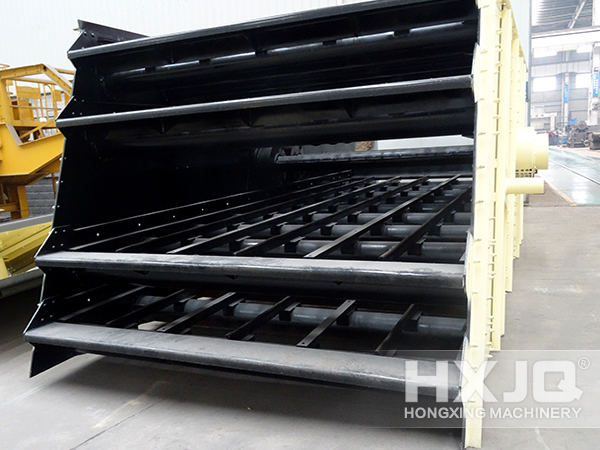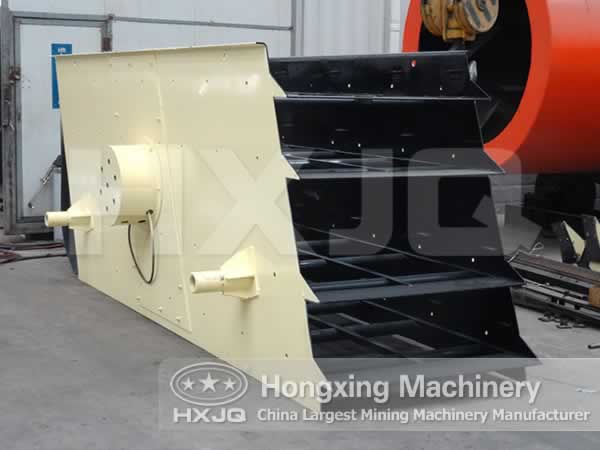 This kind of inertia vibrating screen is also called single-shaft vibrating screen. It has two support forms: suspension support and pedestal support. In suspension support, the screen surface is fixed on the screen box and the screen box is suspended or supported by the spring. The bearing of spindle is installed on the screen box, and the spindle rotates in a high speed when driven by the belt wheel. The disk with eccentric weight is installed on the spindle, and it rotates following the rotating spindle and produces centrifugal inertia force, which can make free vibrating box to vibrate in an approximate circular trajectory.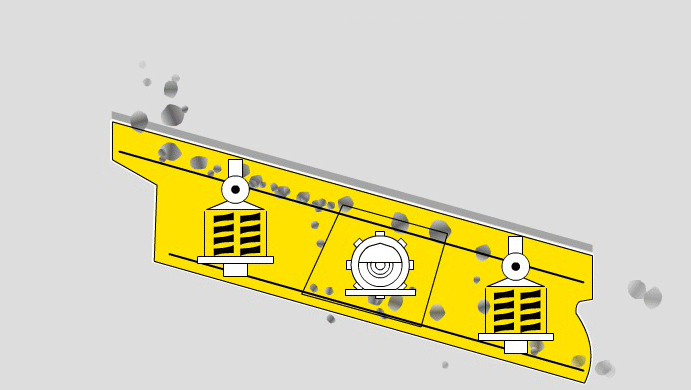 Main Advantages
1. High screening efficiency and high productivity.
2. Simple structure and easy to disassemble and replace;
3. Less electric power consumption .
Operation and Maintenance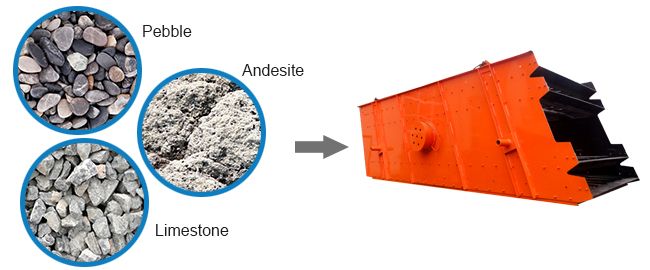 The circular vibrating screen can be started only when there are no materials on the screen surface. Feed materials only after the machine operating steadily. When the vibrating screen works, workers should frequently observe the operating condition of the machine. If there is abnormal movement or unusual sound, workers should shutdown the machine timely, check and discover the reason, and then remedy the trouble.
Technical Data
Model
Sieve
layer
Sieve
area
(m²)
Mesh
size
(mm)
Max.
feeding
size
(mm)
>Processing
capacity
(m³/h)
Vibrating
Frequency
(r/min)
Double
amplitude
(mm)
Motor
power
(kw)
Sieve
obliquity
(°)
Sieve
specification
(mm)
>Dimensions
(L×W×H)
(mm)
2YK1225
2
6
4-50
200
8-60
800-970
8
6P 5.5KW
20
1200×2500
2930×1860×870
3YK1225
3
9
4-50
200
10-70
800-970
8
6P 5.5KW
20
1200×2500
3070×1860×1210
2YK1230
2
7.2
4-50
200
12-78
800-970
8
6P 7.5KW
20
1200×3000
3430×1860×870
3YK1230
3
10.8
4-50
200
13-80
800-970
8
6P 7.5KW
20
1200×3000
3570×1860×1210
2YK1237
2
8.88
4-50
200
15-86
800-970
8
6P 7.5KW
20
1200×3700
4050×1860×870
3YK1237
3
13.32
4-50
200
16-90
800-970
8
6P 7.5KW
20
1200×3700
4270×1860×1210
2YK1535
2
10.5
5-50
200
20-125
800-970
8
6P 11KW
20
1500×3500
4120×2210×1230
3YK1535
3
15.75
5-50
200
21-125
800-970
8
6P 11KW
20
1500×3500
4360×2210×1610
2YK1545
2
13.5
5-50
200
22-150
800-970
8
6P 11KW
20
1500×4500
5120×2210×1230
3YK1545
3
20.25
5-50
200
22-150
800-970
8
6P 15KW
20
1500×4500
5360×2210×1610
4YK1545
4
27
5-50
200
22-155
800-970
8
6P 15KW
20
1500×4500
5930×2210×2060
2YK1548
2
14.4
5-50
200
22.5-162
800-970
8
6P 11KW
20
1500×4800
5420×2210×1230
3YK1548
3
21.6
5-50
200
22.5-162
800-970
11
6P 15KW
20
1500×4800
5660×2210×1610
4YK1548
4
28.8
5-50
200
22.5-162
800-970
8
6P 18.5KW
20
1500×4800
6230×2210×2060
2YK1848
2
17.28
5-80
200
25-206
750
8
6P 18.5KW
20
1800×4800
5420×2550×1420
3YK1848
3
25.92
5-80
200
32-276
750
8
6P 18.5KW
20
1800×4800
5660×2550×1780
4YK1848
4
34.56
5-80
200
32-285
750
8
6P 22KW
20
1800×4800
6290×2550×2160
2YK1854
2
19.44
5-80
200
32-312
800-970
8
6P 22KW
20
1800×5400
5960×2550×1420
3YK1854
3
29.16
5-80
200
32-312
800-970
8
6P 22KW
20
1800×5400
6260×2550×1780
4YK1854
4
38.88
5-80
200
32-336
800-970
8
6P 22KW
20
1800×5400
6830×2550×2160
2YK2160
2
25.2
5-100
200
50-475
970
8
6P 30KW
20
2100×6000
6720×2840×1530
3YK2160
3
37.8
5-100
200
50-475
970
8
6P 30KW
20
2100×6000
7030×2840×1910
4YK2160
4
50.4
5-100
200
50-497
970
8
6P 37KW
20
2100×6000
7300×2840×2380
2YK2460
2
28.8
5-100
200
65-550
970
8
6P 30KW
20
2400×6000
7020×3140×1530
3YK2460
3
43.2
5-100
200
70-620
970
8
6P 37KW
20
2400×6000
7300×3140×1910
4YK2460
4
57.6
5-100
200
80-680
970
8
6P 45KW
20
2400×6000
7600×3140×2380
2YK2870
2
39.2
5-100
200
120-680
750
8
8P 22×2KW
20
2800×7000
7600×4320×1620
3YK2870
3
58.8
5-100
200
180-720
750
8
8P 22×2KW
20
2800×7000
7800×4320×2120
2YK3072
2
43.2
5-100
200
200-700
750
8
8P 22×2KW
20
3000×7200
7800×4520×1750
3YK3072
3
64.8
5-100
200
230-800
750
8
8P 22×2KW
20
3000×7200
8000×4520×2300
Model
Max. feeding
size (mm)
Processing
capacity
(m³/h)
2YK1225
200
8-60
3YK1225
200
10-70
2YK1230
200
12-78
3YK1230
200
13-80
2YK1237
200
15-86
3YK1237
200
16-90
2YK1535
200
20-125
3YK1535
200
21-125
2YK1545
200
22-150
3YK1545
200
22-150
4YK1545
200
22-155
2YK1548
200
22.5-162
3YK1548
200
22.5-162
4YK1548
200
22.5-162
2YK1848
200
25-206
3YK1848
200
32-276
4YK1848
200
32-285
2YK1854
200
32-312
3YK1854
200
32-312
4YK1854
200
32-336
2YK2160
200
50-475
3YK2160
200
50-475
4YK2160
200
50-497
2YK2460
200
65-550
3YK2460
200
70-620
4YK2460
200
80-680
2YK2870
200
120-680
3YK2870
200
180-720
2YK3072
200
200-700
3YK3072
200
230-800