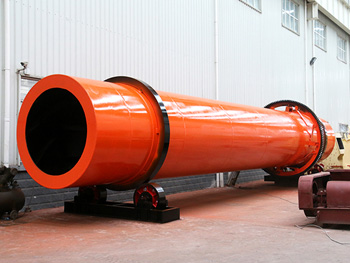 Dryer Machine
Cylinder capacity: :9-285m³
Processing capacity: 0.5-50t/h
Applied material: limestone, fly ash, coal powder, slag, clay.
Introduction
Rotary dryer is a device used for materials heating and drying. Materials in the rotary cylinder of concentric series are able to be dried in the process of traversing back and forth.
Structure of Rotary Dryer
According to customers' demand, the gas producer, combustion chamber or supporting elevator, belt conveyer, fixed-quantity feeder, cyclone dust collector and draught fan can be designed respectively in the rotary dryer. The main body is chiefly composed of the cylinder, front roll ring, back roll ring, gear, and dam roller; drag roller, pinion, discharging part, raising plate, reducer, motor, feeding chute, furnace body, etc.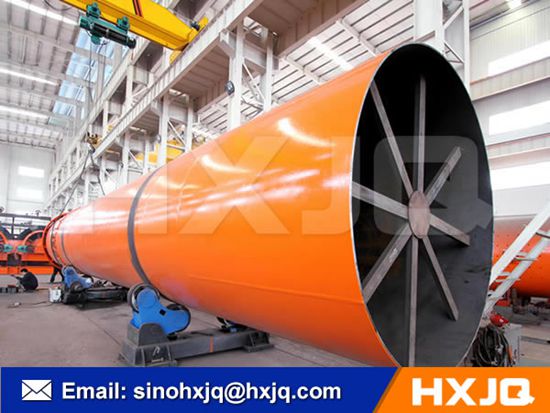 Working Principle of Rotary Dryer
The reduction of heat dissipation surface helps to reduce heat consumption, and the increasing heat exchanging surface can greatly improve the efficiency of heat exchange. For materials cannot contact smoking, multi-cylinder rotary dryer supplies the internal flue and annular flue inside and outside the cylinder respectively, and each flue uses radical flue to communicate with each other, and it is also efficient and energy-saving.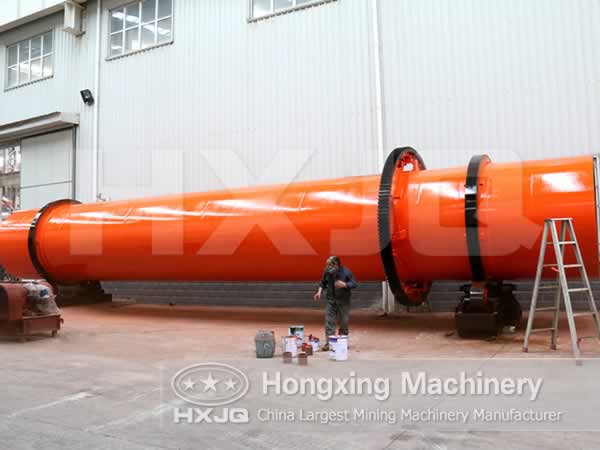 Indirect Heat Drier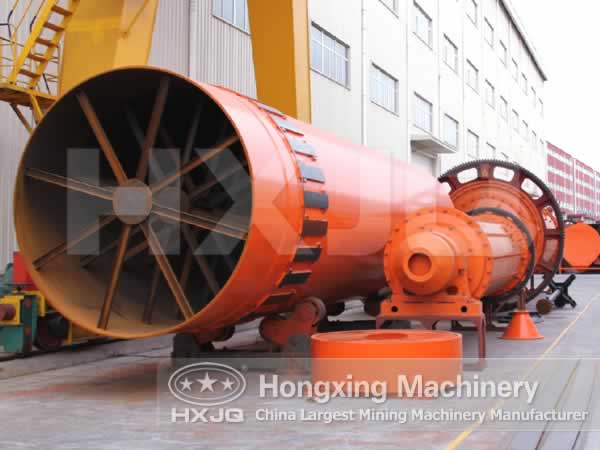 Indirect heat drier is primarily used for drying granule materials with a certain degree of moisture and granularity, such as yellow sand, molding sand, cinder, clay, and some other small granule materials resistant to high temperature and smoking and dust. The moisture content of the materials shall be below 1 to 0.5 percent after drying. This machine mainly consists of rotary body, raising plate, transmission, back-up unit as well as seal ring. It is characterized by the merit of reasonable structure, excellent workmanship, high production, low energy consumption and convenient operation.
Sawdust Dryer

Sawdust dryer adopts the spiral conveyer to add the granular powder into the drying tube. That is a process of evaporating the moisture in the wet materials during conveying and dispersing of the high-speed hot stream, so as to obtain powdery or granular dry products. This equipment is mainly composed of air heater, feeder, airflow drying pipe, cyclone separator and draught fan.
Technical Data
Spec./m
(Dia.×Length)

Shell Cubage
(m³)

Capacity
(t/h)

Installation
Obliquity
(%)

Highest Inlet
Air Temperature
(℃)

Main Motor
(kw)

Weight
(t)

Φ1.2×8.0

9.0

1.9~2.4

3~5

700~800

7.5

9

Φ1.2×10

11.3

2.4~3.0

3~5

700~800

7.5

11

Φ1.5×12

21.2

4.5~5.7

3~5

700~800

15

18.5

Φ1.5×14

24.7

5.3~6.6

3~5

700~800

15

19.7

Φ1.5×15

26.5

5.7~7.1

3~5

700~800

15

20.5

Φ1.8×12

30.5

6.5~8.1

3~5

700~800

18.5

21.5

Φ1.8×14

35.6

7.6~9.5

3~5

700~800

18.5

23

Φ2.2×12

45.6

9.7~12.2

3~5

700~800

22

33.5

Φ2.2×14

53.2

11.4~14.2

3~5

700~800

22

36

Φ2.2×16

60.8

13.0~16.2

3~5

700~800

22

38

Φ2.4×14

63.3

13.5~16.9

3~5


700~800

37

45

Φ2.4×18

81.4

17.4~21.7

3~5

700~800

37

49

Φ2.4×20

90.4

19.3~24.1

3~5

700~800

45

54

Φ2.4×22

99.5

21.2~26.5

3~5

700~800

45

58

Φ2.6×24

127.4

27.2~34.0

3~5

700~800

55

73

Φ3.0×20

141.3

30.1~37.7

3~5

700~800

75

85

Φ3.0×25

176.6

37.7~47.1

3~5

700~800

75

95

Φ3.2×25

201

42.9~53.6

3~5

700~800

90

110

Φ3.6×28

285

60.8~76.0

3~5

700~800

160

135
Technical parameters of indirect heat dryer:
Shell
diameter
×shell
Length
Items
Inside
diameter
of outer
shell
(mm)
Inside
diameter
of inner
shell
(mm)
Shell
Length
(m)
Shell
cubage
(m³)
Shell
obliquity
Lifting
blade
form
Highest
inlet air
temperature
(℃)
Dimensions
(m)
Φ1.5×15m
1500
500
15
20.27
3-5%
Lifting form
850
16.2×2.7×2.7
Φ1.5×17m
17
22.97
18.2×2.7×2.7
Φ1.5×19m
19
25.68
20.0×2.9×2.9
Φ1.8×21m
1800
650
21
35.91
3-5%
Lifting form
850
22.5×2.7×2.7
Φ1.8×23m
23
39.33
24.5×2.9×2.9
Φ1.8×25m
25
42.75
26.5×2.9×2.9
Φ2.2×21m
2200
800
21
58.10
3-5%
Lifting form
850
----
Φ2.2×23m
23
63.61
Φ2.2×25m
25
69.15
Spec./m
(Dia.×Length)
Capacity
(t/h)
Highest Inlet
Air Temperature
(℃)
Φ1.2×8.0
1.9~2.4
700~800
Φ1.2×10
2.4~3.0
700~800
Φ1.5×12
4.5~5.7
700~800
Φ1.5×14
5.3~6.6
700~800
Φ1.5×15
5.7~7.1
700~800
Φ1.8×12
6.5~8.1
700~800
Φ1.8×14
7.6~9.5
700~800
Φ2.2×12
9.7~12.2
700~800
Φ2.2×14
11.4~14.2
700~800
Φ2.2×16
13.0~16.2
700~800
Φ2.4×14
13.5~16.9
700~800
Φ2.4×18
17.4~21.7
700~800
Φ2.4×20
19.3~24.1
700~800
Φ2.4×22
21.2~26.5
700~800
Φ2.6×24
27.2~34.0
700~800
Φ3.0×20
30.1~37.7
700~800
Φ3.0×25
37.7~47.1
700~800
Φ3.2×25
42.9~53.6
700~800
Φ3.6×28
60.8~76.0
700~800
Technical parameters of indirect heat dryer:
Shell
diameter
×shell
Length
Items
Shell
cubage
(m³)
Highest
inlet air
temperature
(℃)
Φ1.5×15m
20.27
850
Φ1.5×17m
22.97
Φ1.5×19m
25.68
Φ1.8×21m
35.91
850
Φ1.8×23m
39.33
Φ1.8×25m
42.75
Φ2.2×21m
58.10
850
Φ2.2×23m
63.61
Φ2.2×25m
69.15