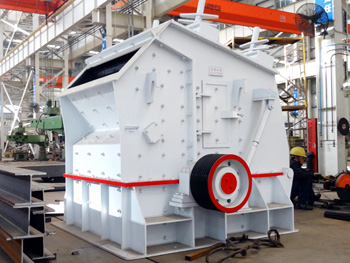 Impact Crusher
Production Capacity:30-800t/h
Feed opening: 400×730-1260×2040mm
Feeding size: 300-700mm
Applied material: limestone, granite, coal, slag, clay.
Introduction to China Impact crusher
China impact crusher is a kind of new and efficient impact breaker and its characteristics are small volume, simple structure, high crushing ratio, low energy consumption and great capacity. The impact crusher is a promising impact crushing machine with selective crushing technology.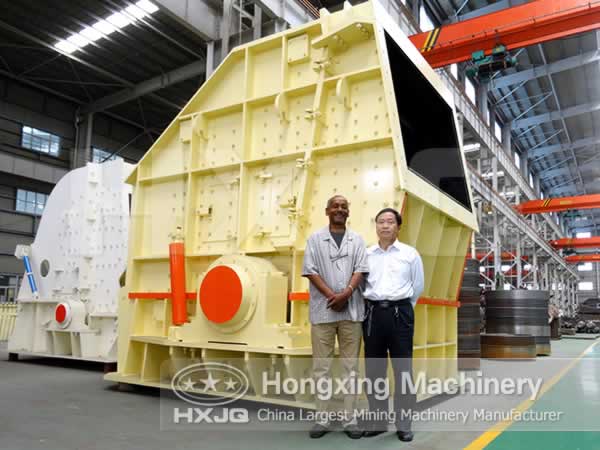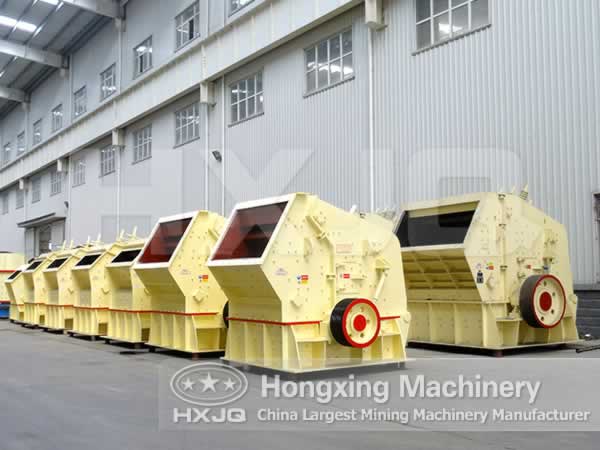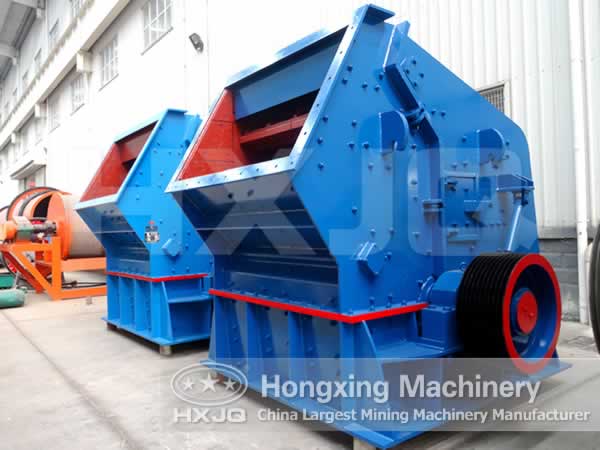 Working Process of China Impact Crusher
Stones fall directly into the high-speed rotating plate of the impact breaker and then, under the influence of the centrifugal force, high-speed crashing and high-density smashing will happen between stones and slungshot distributed around the plate of the impact crushing machine. Due to the impact force, stones would be discharged directly from the lower after repetitious impact, friction and smashing resulted from the eddy motion between the plate and chassis. This is a closed circulation, and the screening equipment determines the granularity of the final products from the impact crushing machine.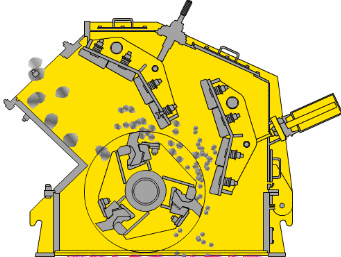 Performance
1. This type of impact stone crusher with multi-cavity crushing technology is suitable for hard rocks;
2. Low and huge feeding inlet of the impact stone crusher to dispose production line and enlarge feeding size;
3. Long lifespan of the hammer, impact plate and liner because of the new wear resistant material;
4. High- chromium plate hammer, unique impact liner, efficient and energy- saving, especially suitable for crushing hard rock;
5. Perfect structure of the impact stone crusher contributes to procucts with small grain diameter and cubic shape of the, no inner texture;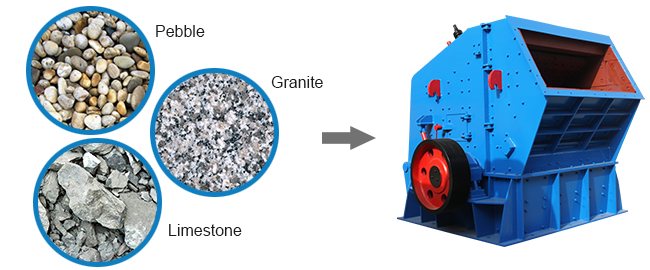 6. Cubic shape of finished products, adjustability of discharging granularity;
7. The impact breaker owns a simple crushing process;
8. Full hydraulic opening for the convenience of maintenance and changing quick-wear parts;
9. Big feeding inlet, high crushing chamber, adaptable to high-hardness materials, huge lumpiness of the products with low amount of powders.
Technical Data
Model
specification
Max.feeding
size
(mm)
Power
(kw)
Rotation
speed of
impeller
(r/min)
Capacity
(t/h)
Overall
dimension
(L×W×H)
(mm)
HX-06
35
2P 37-55KW
2000-3000
12-30
2500×1620×2600
HX-07
45
4P 55-75KW
1500-2500
25-55
2700×1760×2800
HX-09
50
4P 110-150KW
1200-2000
55-100
3900×2000×3070
HX-10
60
4P 150-180KW
1000-1700
100-160
4600×2350×3450
Model
specification
Max.feeding
size(mm)
Capacity
(t/h)
HX-06
35
12-30
HX-07
45
25-55
HX-09
50
55-100
HX-10
60
100-160