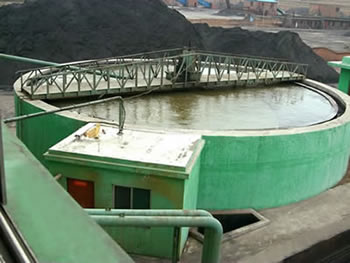 Ore Concentrate
Charge Amount:1.8-204.6t
Reference Power:5.6-6250t/d
Application Range:Metallurgy, chemical industry, coal, nonmetal ore dressing, environment protection, etc
Structure
Pulp thickner (high efficiency concentrator) is typically composed of the concentration tank, cake rack, gear, lifting device, feeding device, discharging device and signal safety device.
Working Principle
The working principle of the ore concentrate is that a certain amount of flocculant must be added to the slurry to be concentrated, and the purpose of the mineral particle in the slurry is to form floc, so as to speed up the settling velocity and achieve the aim of improving concentration efficiency.

The structure design of pulp thickner is unique, which gives full play of the advantages of high efficiency. Small size and high efficiency make two kinds of functions implement on the same equipment. It also can be used as a separator with features of simple structure, flexible configuration, running without power, good controllability, easy to operate and maintain, etc.
Application
It is the ideal equipment can significantly reduce energy consumption. In mining industry, it can create sound conditions for achieving a high concentration of tailings transportation, to further reduce energy consumption and conservation of slurry transportation.
Technical Data
Specification
Concentration pond (m)
Deposit square(m2)
Harrow part
Motor
Processing capacity (t/d)
Total weight(t)
Model
Specification
Inner diameter
Depth
Pond degree
Method
Height(m)
Rotation time(min/r)
Driving
Lifting
NZS-1
Φ1.8m
1.8
1.8
2.54
Manual
0.16
2
Y90L-6 1.1KW
----
5.6
1.9
NZS-3
Φ3.6m
3.6
1.8
10.2
Manual
0.35
2.5
Y90L-6 1.1KW
----
22.4
4.3
NZS-6
Φ6m
6
3
28.3
Manual
0.2
3.7
Y90S-4 1.1KW
----
62
10.7
NZSF-6
Φ6m
6
3
28.3
Manual
----
3.7
Y90S-4 1.1KW
----
62
5.1
NZ-9
Φ9m
9
3
63.6
Auto
0.25
4.34
Y132S-6 3KW
XWD0.8-3 0.8KW
140
8.5
NZS-9
Φ9m
9
3
63.6
Manual
0.25
4.34
Y132S-6 3KW
----
140
7.5
NZS-12
Φ12m
12
3.5
113
Manual
0.25
5.28
JTC752A-44 5.2KW
----
250
11.1
NZ-15
Φ15m
15
4.4
176
Auto
0.4
10.4J
JTC752A-44 5.2KW
Y112M-6 2.2KW
350
26.0
NZ-20
Φ20m
20
4.4
314
Auto
0.4
10.4
Y100L1-4 5.2KW
Y112M-6 2.2KW
960
28.9
NZ-30
Φ30m
30
7.165
707
----
0.61
13.7
Y672A-44 5.2KW
YCJ132-S 1.5KW
----
36.6
NZS-45
Φ45m
45
4.633
1590
Manual
----
20
Y672A-44 5.2KW
YCJ160-S 2.2KW
515
54.4
NT-15
Φ15m
15
3.5
177
----
----
8.4
Y132M2-6 5.5KW
----
390
12.6
NQ-18
Φ18m
18
3.5
255
----
----
10
Y132M2-6 5.5KW
----
560
11.6
NQ-24
Φ24m
24
3.4
452
----
----
12.7
Y160M-6 7.5KW
----
1000
26.6
NQ-30
Φ30m
30
3.6
707
----
16
Y160M-6 7.5KW
----
1570
30.9
NJ-38
Φ38m
38
4.9
1134
----
----
10-25
JZT252-4 11KW
Y160M-6 7.5KW
1600
63.3
NT-45
Φ45m
45
5.05
1590
Auto
----
19.3
Y160L-6 11KW
----
2400
66.8
NTJ-53
Φ53m
53
5.07
2202
----
----
23.18
Y180L-6
15kw
----
6250
89.1
NT-100
Φ100m
100
5.65
7846
----
----
43
Y180L-6 15KW
----
3030
214.9
Processing
capacity (t/d)
Model
Specification
NZS-1
Φ1.8m
5.6
NZS-3
Φ3.6m
22.4
NZS-6
Φ6m
62
NZSF-6
Φ6m
62
NZ-9
Φ9m
140
NZS-9
Φ9m
140
NZS-12
Φ12m
250
NZ-15
Φ15m
350
NZ-20
Φ20m
960
NZ-30
Φ30m
----
NZS-45
Φ45m
515
NT-15
Φ15m
390
NQ-18
Φ18m
560
NQ-24
Φ24m
1000
NQ-30
Φ30m
1570
NJ-38
Φ38m
1600
NT-45
Φ45m
2400
NTJ-53
Φ53m
6250
NT-100
Φ100m
3030