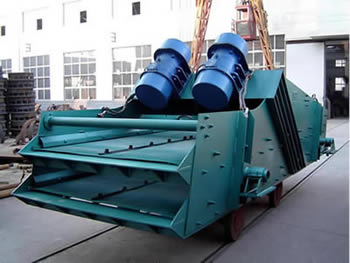 Linear Vibrating Screen
Processing capacity: 10-600t/h
Feeding size: ≤200-≤300mm
Sieve layer: 1-2
Mesh size: 4-150mm
Double amplitude: 6-10mm
Product Description
Linear vibrating screen is a new and high efficient classification equipment, and it is widely used in mining, coal dressing, smelting, building material, refractory material, light industry and other industries. Linear vibrating screen has advantages of steadiness and reliability, low consumption, low noise, long service life, stable vibration mode and high screening efficiency.
Linear vibrating screen uses vibration motor as vibration source to make the materials to be tossed in the sieve to move forward in a straight line. The material can be evenly fed from feeder into the feeding port of screening machine.
Characteristics
1) The unique mesh structure design makes it easy and quick to replace the screen (just 3-5 minutes). In addition, linear vibrating screen with such design allows the use of various mesh, such as, nylon, special Long, PP and so on.
2) The screen is of witty design, even one person can handle the screening machine.
3) Larger screening area and high efficient processing capabilities.
4) The main mesh fully supports the fine mesh, so the fine mesh could score a longer life, and many costs can be reduced in the long production process.
Technical Data
Model
Sieve specification(L×W)

Sieve layer

Mesh size

Feeding size

Processing capacity
Motor power

Total weight
Vibrating frequency
Double amplitude
Sieve obliquity

Dimensions (L×W×H)
(mm)
(mm)
(mm)
(t/h)
(kw)
(kg)
(Hz)
(mm)
(℃)
(mm)
ZSG1237
3700×1200
1
4-50
≤200
10-100
5.5×2
2250
16
6-8
15
3800×2050×1920
2ZSG1237
3700×1200
2
4-50
≤200
10-100
5.5×2
3345
16
6-8
15
3800×2050×2200
ZSG1443
4300×1400
1
4-50
≤200
10-150
5.5×2
4100
16
6-8
15
4500×3040×2500
2ZSG1443
4300×1400
2
4-50
≤200
10-150
5.5×2
4900
16
6-8
15
4500×3040×2700
3ZSG1443
4300×1400
3
4-50
≤200
10-150
5.5×2
5870
16
6-8
15
4500×3040×2820
2ZSG1548
4800×1500
2
5-50
≤200
15-200
7.5×2
5836
16
8-10
15
4800×3140×2814
3ZSG1548
4800×1500
3
5-50
≤200
15-200
7.5×2
6900
16
8-10
15
4799×3140×3014
2ZSG1848
4800×1800
2
5-50
≤300
50-500
7.5×2
6489
16
8-10
15
4799×3440×2814
3ZSG1848
4800×1800
3
5-50
≤300
50-500
7.5×2
7750
16
8-10
15
4799×3440×3014
4ZSG1848
4800×1800
4
5-50
≤200
50-500
11×2
8300
16
8-10
15
4799×3440×3503
2ZSG1860
6000×1800
2
5-150
≤300
80-600
11×2
9950
16
8-10
15
6000×3440×3326
Model
Feeding size

Processing capacity
(mm)
(t/h)
ZSG1237
≤200
10-100
2ZSG1237
≤200
10-100
ZSG1443
≤200
10-150
2ZSG1443
≤200
10-150
3ZSG1443
≤200
10-150
2ZSG1548
≤200
15-200
3ZSG1548
≤200
15-200
2ZSG1848
≤300
50-500
3ZSG1848
≤300
50-500
4ZSG1848
≤200
50-500
2ZSG1860
≤300
80-600