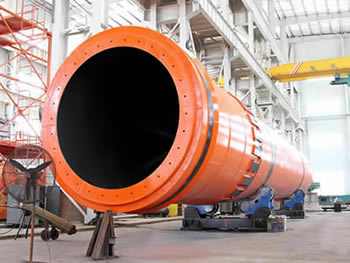 Working Principle of Cooling Machine
The cylinder of cooler machine is a rotating cylinder has a dip with horizon. With the rotation of barrel, materials run to the lower body because of the function of gravity. Wet materials can directly or indirectly get the heat from heat carrier in the process, and cool hot materials, then, finished materials will be discharged by belt conveyor and spiral conveyor from the discharging part. There is a shoveling plate on the wall of cylinder body with its function of pulling up materials and sprinkling materials, which can increa se the contact surface of materials and air to improve the cooling rate.
Features of Rotary Drum Cooler
Cooling machine is also called cylinder cooling machine, which is used for compound fertilizer production; and it can also cool fertilizer with proper temperature and granularity. The cooling machine can largely increase the cooling rate, labor intensity and production, and it can further get rid of water and low the particle temperature of fertilizer. At the same time, cooling machine can also cool materials with powders and particles, and it has features of compact structure, high cooling rate, reliable performance and strong adaptability.
Our company is specialized in all kinds of sand production line equipment with mature craft, advanced technology, reliable device and perfect after-sale service. Our company constantly spends on research and development, and drives the enterprise by technological innovation.
Leave Message
Thank you for your interest in Hongxing Machinery. If you have a question about our products, we'd like to hear from you. Please fill out the email form below or call us directly on +86-371-67833171. Rest assured we won't share your name, address or phone number with anyone. We're passionate about our company and want to help any way we can. Thanks for taking the time to get in touch with us.