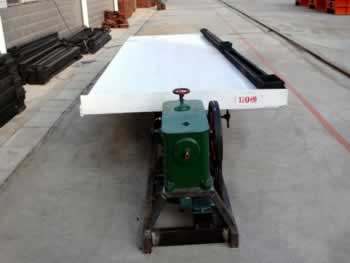 Introduction to Shaking Table
Shaking table is gravity beneficiation equipment for fine materials, and it is widely used for the selection of tin, tungsten, gold, silver, lead, zinc, tantalum, niobium, iron, manganese, ferrotitanium and coal. Our company has a long history of shaking table production and persists on constant innovation. Our company has developed the hyperbolic wave shaking table based on the single wave shaking table and the initial straight shaking table, with significantly increased handling capacity, recovery rate and concentrator ratio.
Concentrator table
Concentrator table is usually composed of the bed, rack and transmission mechanism along with flushing tanks, feed tray and engine base. The whole bed surface is supported or lifted by rack, and the rack is fitted with slope-adjusting equipment.
Concentrator table can make the particles flow to different directions according to their different densities and granularities, and fan-shaped materials can be discharged along the edge of the bed. Concentrator table has a long discharging line, which can precisely output a variety of quality products, such as concentrate and tailings.
Categories of Concentrator Table
ore dressing shaker, slime dressing shaker, glass fiber reinforced plastics dressing shaker, 6-S dressing shaker, LS dressing shaker and so on.
Leave Message
Thank you for your interest in Hongxing Machinery. If you have a question about our products, we'd like to hear from you. Please fill out the email form below or call us directly on +86-371-67833171. Rest assured we won't share your name, address or phone number with anyone. We're passionate about our company and want to help any way we can. Thanks for taking the time to get in touch with us.