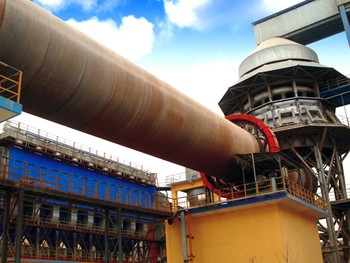 Ceramic Sand Kiln
Feeding Granularity:Φ2.5×40m-Φ4.8×68m
Production Capacity:150-1000t/d
Application Range:The main equipment of calcining active lime
Classification
At present, the main equipment used for producing ceramsite in our country is rotary kiln which is often used in all kinds of ceramsite production line and ceramic sand production line. Broadly speaking, the ceramic equipment can be divided into ceramsite rotary kiln and ceramic sand kiln.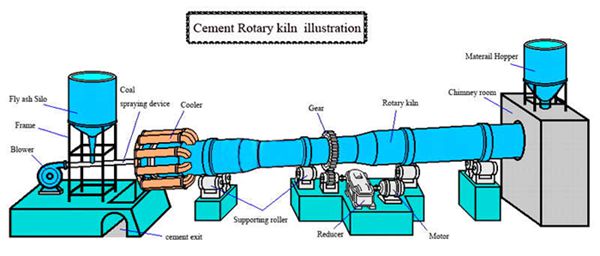 Ceramic sand kiln is one kind of calcining kilns which is a rotary cylinder machine used for calcining all types of materials. Since calcinating rotary kiln has many features such as high unit volume, long service life of the kiln, high running rate, stable operation, high heat transfer efficiency and low heat consumption, it is the ideal calcining equipment.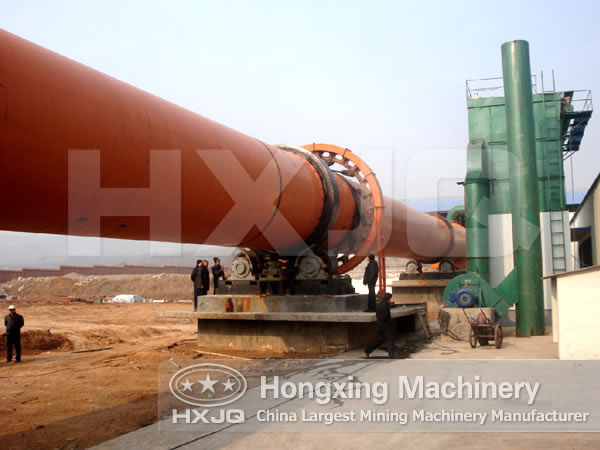 It is widely used in many industries of ferrous metallurgy, non-ferrous metallurgy, chemistry, building material, non-metallic mine, refractory, paper making and environment protection. In ferrous metallurgy, ceramisite kiln is mainly used for producing ferric oxide, directly reducing the iron concentrate and recycling of super fine iron ore concentrate and blast-furnace ash; in non-ferrous metallurgy, it can be used for oxidation calcining, reduction calcining, sulfating calcining and separation calcining and also for manufacturing alumina.
Technical Data
Product
Specification
(m)
Kiln dimensions
Motor
power
(kw)
Total
weight
(t)
note
Diameter
(m)
Length
(m)
Obliquity
(%)
Capacity
(t/d)
Rotation
speed
(r/min)
Φ2.5×40
2.5
40
3.5
180
0.44-2.44
55
149.61
-----
Φ2.5×50
2.5
50
3
200
0.62-1.86
55
187.37
-----
Φ2.5×54
2.5
54
3.5
280
0.48-1.45
55
196.29
outside disassemble kiln
Φ2.7×42
2.7
42
3.5
320
0.10-1.52
55
198.5
------
Φ2.8×44
2.8
44
3.5
450
0.437-2.18
55
201.58
outside disassemble kiln
Φ3.0×45
3
45
3.5
500
0.5-2.47
75
210.94
------
Φ3.0×48
3
48
3.5
700
0.6-3.48
100
237
outside disassemble klin
Φ3.0×60
3
60
3.5
800
0.3-2
100
310
------
Φ3.2×50
3.5
50
4
1000
0.6-3
125
278
disassemble klin
Φ3.3×52
3.3
52
3.5
1300
0.266-2.66
125
283
kiln with preheater precalcine
Φ3.5×54
3.5
54
3.5
1500
0.55-3.4
220
363
kiln with prehrater precalcine
Φ3.6×70
3.6
70
3.5
1800
0.25-1.25
125
419
Generating klin for usimg ofterheat
Φ4.0×56
4
56
4
2300
0.41-4.07
315
456
klin with prehrater precalcine
Φ4.0×60
4
60
3.5
2500
0.396-3.96
315
510
klin with prehrater precalcine
Φ4.2×60
4.2
60
4
2750
0.41-4.07
375
633
klin with prehrater precalcine
Φ4.3×60
4.3
60
3.5
3200
0.396-3.96
375
583
klin with prehrater precalcine
Φ4.5×66
4.5
66
3.5
4000
0.41-4.1
560
710.4
klin with prehrater precalcine
Φ4.7×74
4.7
74
4
4500
0.35-4
630
849
klin with prehrater precalcine
Φ4.8×74
4.8
74
4
5000
0.396-3.96
630
899
klin with prehrater precalcine
Φ5.0×74
5
74
4
6000
0.35-4
710
944
klin with prehrater precalcine
Φ5.6×87
5.6
87
4
8000
Max4.23
800
1265
klin with prehrater precalcine
Φ6.0×95
6
95
4
10000
Max5
950×2
1659
klin with prehrater precalcine
Product
Specification
(m)
Capacity
(t/d)
Rotation
speed
(r/min)
Φ2.5×40
180
0.44-2.44
Φ2.5×50
200
0.62-1.86
Φ2.5×54
280
0.48-1.45
Φ2.7×42
320
0.10-1.52
Φ2.8×44
450
0.437-2.18
Φ3.0×45
500
0.5-2.47
Φ3.0×48
700
0.6-3.48
Φ3.0×60
800
0.3-2
Φ3.2×50
1000
0.6-3
Φ3.3×52
1300
0.266-2.66
Φ3.5×54
1500
0.55-3.4
Φ3.6×70
1800
0.25-1.25
Φ4.0×56
2300
0.41-4.07
Φ4.0×60
2500
0.396-3.96
Φ4.2×60
2750
0.41-4.07
Φ4.3×60
3200
0.396-3.96
Φ4.5×66
4000
0.41-4.1
Φ4.7×74
4500
0.35-4
Φ4.8×74
5000
0.396-3.96
Φ5.0×74
6000
0.35-4
Φ5.6×87
8000
Max4.23
Φ6.0×95
10000
Max5