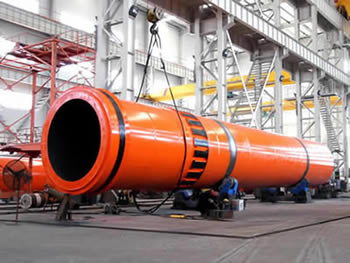 Cement Rotating Dryer
Cylinder capacity: :9-285m³
Processing capacity: 0.5-50t/h
Applied material: limestone, fly ash, coal powder, slag, clay.
Overview
Cement rotating dryer is one kind of dryer machine mainly formed with the main body, front roller circle, rear roller circle, gear, gear roll; pinion, discharging part, plate, reducer, motor, hot air channel, feeding chute, furnace body, etc. Our company can design it with coal gas producer, combustion chamber or supporting hoist, belt conveyor, quantitative feeder, dust collect cyclone, induced draft fan, etc. according to the needs of users. Cement rotating dryer is mainly used to dry materials like building materials, metallurgical materials, clay, coal dust and so on.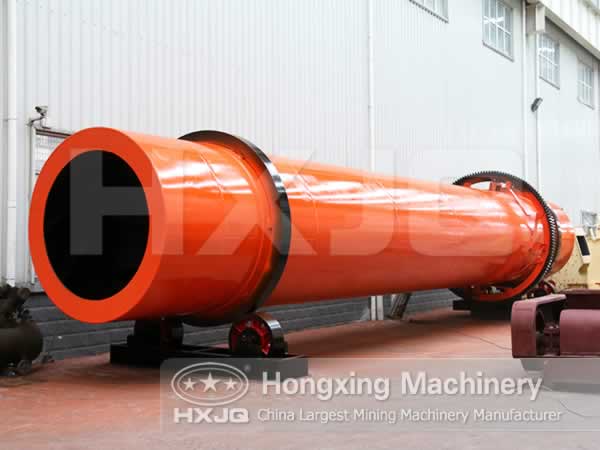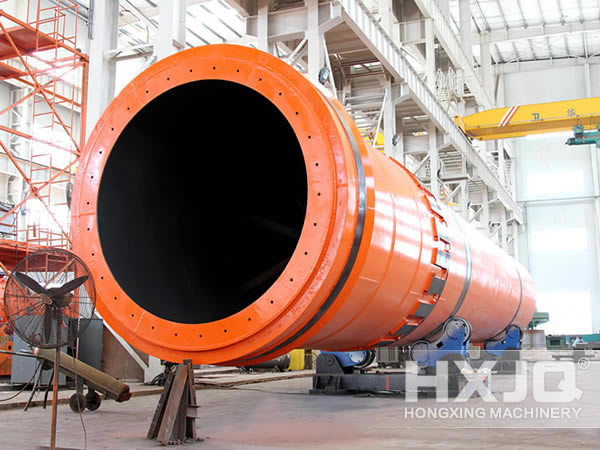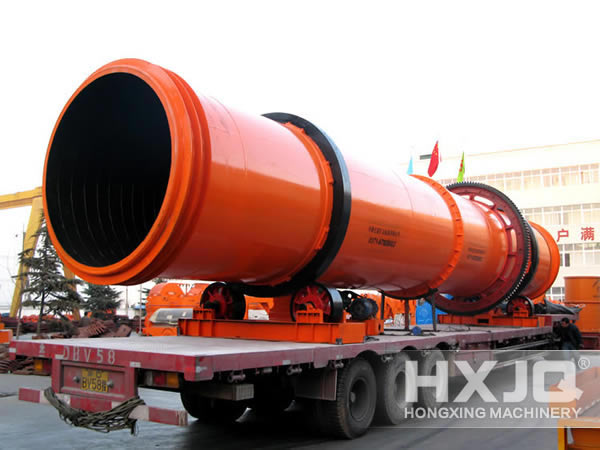 Characteristics
1. Secondary center lifting device and new combined lifting device are adopted to ensure no wind tunnel phenomenon of materials and improve efficiency of heat exchange.
2. Distribution of various circumferential material lifting devices can effectively regulate and control the drying time with a good drying effect.

3. Supporting high-temperature flue gas roaster can burn materials rapidly to provide adequate and high-thermal efficient heating with a coal consumption lower than 15kg of standard coal/ton dry material.
4. Cement rotating dryer can set heating, drying, dust collection as a whole, so as to achieve operating mechanization and automation, and meet environmental requirements.
Working principle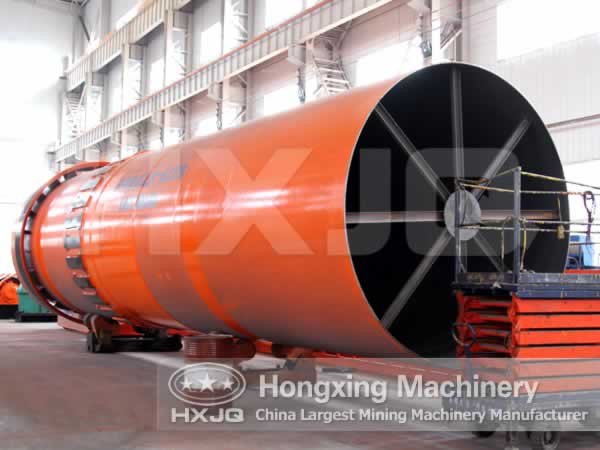 The sleeve sets of cement rotating dryer can timely shorten the length of the dryer, and substantial reduction of the cooling surface can lower heat consumption. Meanwhile, the multiplicative surface can greatly improve the thermal efficiency. For materials can not contact with smoke, multi-drum rotary dryer can provide smoke pipe and the annular pipe respectively in the inner and outer cylinders connected with radial flue, which is also energy-efficient.
Technical Data
Spec./m
(Dia.×Length)

Shell Cubage
(m³)

Capacity
(t/h)

Installation
Obliquity
(%)

Highest Inlet
Air Temperature
(℃)

Main Motor
(kw)

Weight
(t)

Φ1.2×8.0

9.0

1.9~2.4

3~5

700~800

7.5

9

Φ1.2×10

11.3

2.4~3.0

3~5

700~800

7.5

11

Φ1.5×12

21.2

4.5~5.7

3~5

700~800

15

18.5

Φ1.5×14

24.7

5.3~6.6

3~5

700~800

15

19.7

Φ1.5×15

26.5

5.7~7.1

3~5

700~800

15

20.5

Φ1.8×12

30.5

6.5~8.1

3~5

700~800

18.5

21.5

Φ1.8×14

35.6

7.6~9.5

3~5

700~800

18.5

23

Φ2.2×12

45.6

9.7~12.2

3~5

700~800

22

33.5

Φ2.2×14

53.2

11.4~14.2

3~5

700~800

22

36

Φ2.2×16

60.8

13.0~16.2

3~5

700~800

22

38

Φ2.4×14

63.3

13.5~16.9

3~5


700~800

37

45

Φ2.4×18

81.4

17.4~21.7

3~5

700~800

37

49

Φ2.4×20

90.4

19.3~24.1

3~5

700~800

45

54

Φ2.4×22

99.5

21.2~26.5

3~5

700~800

45

58

Φ2.6×24

127.4

27.2~34.0

3~5

700~800

55

73

Φ3.0×20

141.3

30.1~37.7

3~5

700~800

75

85

Φ3.0×25

176.6

37.7~47.1

3~5

700~800

75

95

Φ3.2×25

201

42.9~53.6

3~5

700~800

90

110

Φ3.6×28

285

60.8~76.0

3~5

700~800

160

135
Technical parameters of indirect heat dryer:
Shell
diameter
×shell
Length
Items
Inside
diameter
of outer
shell
(mm)
Inside
diameter
of inner
shell
(mm)
Shell
Length
(m)
Shell
cubage
(m³)
Shell
obliquity
Lifting
blade
form
Highest
inlet air
temperature
(℃)
Dimensions
(m)
Φ1.5×15m
1500
500
15
20.27
3-5%
Lifting form
850
16.2×2.7×2.7
Φ1.5×17m
17
22.97
18.2×2.7×2.7
Φ1.5×19m
19
25.68
20.0×2.9×2.9
Φ1.8×21m
1800
650
21
35.91
3-5%
Lifting form
850
22.5×2.7×2.7
Φ1.8×23m
23
39.33
24.5×2.9×2.9
Φ1.8×25m
25
42.75
26.5×2.9×2.9
Φ2.2×21m
2200
800
21
58.10
3-5%
Lifting form
850
----
Φ2.2×23m
23
63.61
Φ2.2×25m
25
69.15
Spec./m
(Dia.×Length)
Capacity
(t/h)
Highest Inlet
Air Temperature
(℃)
Φ1.2×8.0
1.9~2.4
700~800
Φ1.2×10
2.4~3.0
700~800
Φ1.5×12
4.5~5.7
700~800
Φ1.5×14
5.3~6.6
700~800
Φ1.5×15
5.7~7.1
700~800
Φ1.8×12
6.5~8.1
700~800
Φ1.8×14
7.6~9.5
700~800
Φ2.2×12
9.7~12.2
700~800
Φ2.2×14
11.4~14.2
700~800
Φ2.2×16
13.0~16.2
700~800
Φ2.4×14
13.5~16.9
700~800
Φ2.4×18
17.4~21.7
700~800
Φ2.4×20
19.3~24.1
700~800
Φ2.4×22
21.2~26.5
700~800
Φ2.6×24
27.2~34.0
700~800
Φ3.0×20
30.1~37.7
700~800
Φ3.0×25
37.7~47.1
700~800
Φ3.2×25
42.9~53.6
700~800
Φ3.6×28
60.8~76.0
700~800
Technical parameters of indirect heat dryer:
Shell
diameter
×shell
Length
Items
Shell
cubage
(m³)
Highest
inlet air
temperature
(℃)
Φ1.5×15m
20.27
850
Φ1.5×17m
22.97
Φ1.5×19m
25.68
Φ1.8×21m
35.91
850
Φ1.8×23m
39.33
Φ1.8×25m
42.75
Φ2.2×21m
58.10
850
Φ2.2×23m
63.61
Φ2.2×25m
69.15