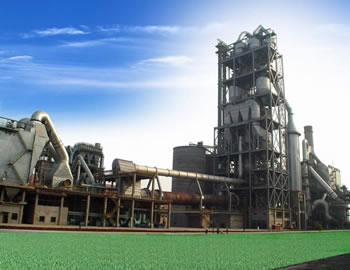 The cement production line is composed of a series of cement production equipment, which mainly contains crushing and pre-equalization, raw material homogenizing, preheating and decomposition, cement clinker and packaging process and so on.
According to the different preparation methods of raw material, the cement production line can be divided into dry type cement production line (including semi-dry method) and wet type cement production line (including semi-wet method).
Equipment Used in Cement Production Line
The equipment of cement production line includes: cement rotary kiln, cyclone preheater and grate cooler.
Cement rotary kiln is the main equipment for calcining cement clinker and it has been widely used in cement, metallurgy, chemical and other industries. Cement rotary kiln is composed of cylinder, bearing device, belt wheel supporting device, transmission device, flexible kiln head, sealing device, burning device and other components. The advantages of this rotary kiln are simple structure, reliable operation and easy to operate.
Cyclone preheater is suitable for various types of kilns. Henan Hongxing Mining Machinery Co., Ltd. researched the five-class suspension preheater with daily capacity of 500 tons and 2000 tons on the basis of introduction, digestion and transformation of the Japan equipment with daily capacity of 800tons and 1000tons. Preheater can be widely applied in the new construction and transformation for medium and small cement plant.
Grate cooler is the main equipment of the clinker calcining system of cement plants and its main functions are to cool and convey the cement clinker; in the meantime, it can provide air for rotary kiln and decomposing furnace, so that it is the main equipment for the heat recycling in the calcining system. With the fast development of modern new dry type cement production technology and equipment and the constant technological improvement of cement clinker grate cooler, the clinker grate cooler with high working efficiency and reliable operation becomes the key to ensuring the production capacity of the system.
Leave Message
Thank you for your interest in Hongxing Machinery. If you have a question about our products, we'd like to hear from you. Please fill out the email form below or call us directly on +86-371-67833171. Rest assured we won't share your name, address or phone number with anyone. We're passionate about our company and want to help any way we can. Thanks for taking the time to get in touch with us.