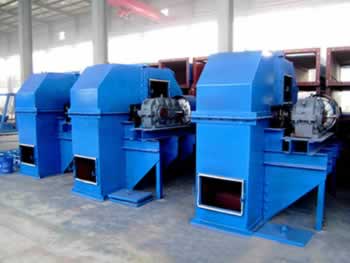 Bucket Elevator
Feeding Granularity:10-270mm
Production Capacity:15-800m³/h
Application Range:Ascension after crushing of limestone and cement clinker
Brief Introduction to Bucket Elevator
Bucket elevator is a common vertical bucket hoist with characteristics of simple structure, small fuselage cross-section dimension, good sealing, low driving power, wide lifting range, reliable operation and long service life, etc. Bucket elevator is suitable for conveying powdered, granular and small block abrasive and non-abrasive materials, such as, coal, cement, crushed stone, sand, clay, ore, grain, limestone, clinker, raw material, etc.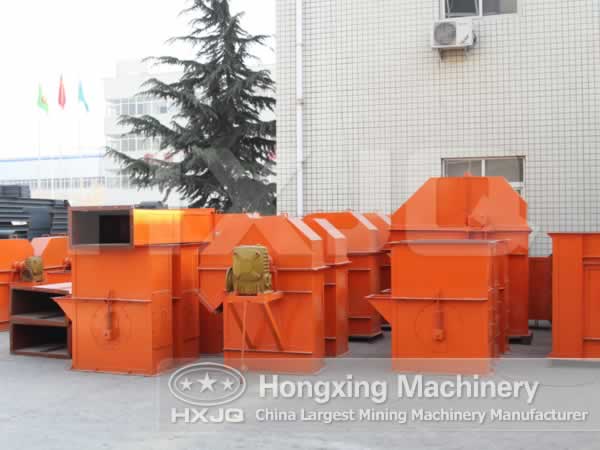 Composition and Installation of Bucket Hoist
Bucket hoist is composed of running parts, drive device, the upper part, the central shell and the lower part. The drive device of the bucket elevator adopts a variety of drive devices (depending on the actual needs of the user), and the overhaul rack and railing are mounted on the drive platform, which can be divided into left installation and right installation; the upper part of the bucket elevator is installed with track (double chains) and backstop; the discharging port is equipped with anti-material rubber sheet; the central shell is equipped with track (double chains) for preventing the chain swing; and the lower part is equipped with automatic tensioning device.
The hopper of common used bucket type lifter can be divided into deep bucket, shallow bucket and guide slots bucket. The front wall of deep bucket has a small slope with posterior of 65°, which is suitable for conveying dry materials and granular materials with good mobility. The front wall of shallow bucket has a small slope with posterior of 45°, which is suitable for conveying wet and sticky materials. Both deep bucket and shallow bucket are uniformly arranged on the traction element.
Technical Data
Technical parameters of ring chainbucket elevator
Specification
Max.lifting height
(m)
Conveying capacity
(m³/h)
Max.size
(mm)
Pitch of buckets
(mm)
Motor prower
(kw)
TH160
25
7-12
15-20
400
3-4
TH200
28
8-15
20-30
500
3-5.5
TH250
30
10-25
25-35
500
4-7.5
TH300
30
25-35
30-40
500
5.5-11
TH315
40
30-40
35-45
512
5.5-15
TH400
40
45-60
40-55
512
11-22
TH500
40
65-80
50-60
512
15-30
TH630
40
100-120
60-65
688
18.5-37
TH800
40
130-150
65-75
920
22-45
Technical parameters of wire belt bucket elevator
Specification
Max.lifting height
(m)
Conveying capacity
(m³/h)
Max.size
(mm)
Bucket Volume
(L)
Motor prower
(kw)
TDG160
80
34
0-20
2.6
2.2-11
TDG200
80
45
0-25
4.1
3-15
TDG250
80
71
0-30
6.5
5.5-22
TDG315
80
101
0-35
10
7.5-30
TDG400
80
158
0-40
16
15-45
TDG500
80
218
0-45
25
18.5-55
TDG630
80
345
0-50
40
30-90
TDG800
80
491
0-50
61
45-132
Plate chain bucket elevator
Specification
Max.lifting height
(m)
Max.lifting capacity
(m³/h)
Percentageallowed
(%)
Pitch
(mm)
Motor power
(kw)
10
25
50
75
100
Max.size(mm)
NE15
40
16
65
50
40
30
25
101.66
1.5-4
NE30
59
31
90
75
58
47
40
152.4
2.2-7.5
NE50
62
60
90
75
58
47
40
152.4
3-15
NE100
58
110
130
105
80
65
55
200
7.5-30
NE150
65
170
130
105
80
65
55
200
11-37
NE200
73
220
170
135
100
85
70
250
18.5-75
NE300
61
320
170
135
100
85
70
250
22-75
NE400
47
420
205
165
125
105
90
300
45-90
NE500
58
500
240
190
145
120
100
300
45-132
Technical parameters of ring chain bucket elevator
Specification
Max.lifting height
(m)
Conveying capacity
(m³/h)
TH160
25
7-12
TH200
28
8-15
TH250
30
10-25
TH300
30
25-35
TH315
40
30-40
TH400
40
45-60
TH500
40
65-80
TH630
40
100-120
TH800
40
130-150
Technical parameters of wire belt bucket elevator
Specification
Max. lifting height
(m)
Convrying capacity
(m³/h)
TDG160
80
34
TDG200
80
45
TDG250
80
71
TDG315
80
101
TDG400
80
158
TDG500
80
218
TDG630
80
345
TDG800
80
491
Plate chain bucket elevator
Specification
Max.lifting height
(m)
Max. lifting capacity
(m³/h)
NE15
40
16
NE30
59
31
NE50
62
60
NE100
58
110
NE150
65
170
NE200
73
220
NE300
61
320
NE400
47
420
NE500
58
500