New Types of Cone Crushers Will Prevail Everywhere
Hongxing is a well-known cone crusher manufacturer and cone crusher supplier in the Central China. Our cone crushers have the features of reasonable price and various types such as the fluid pressure cone crusher and hydraulic cone crusher. All of them are able to complete the rough, medium and fine crushing processes of different materials.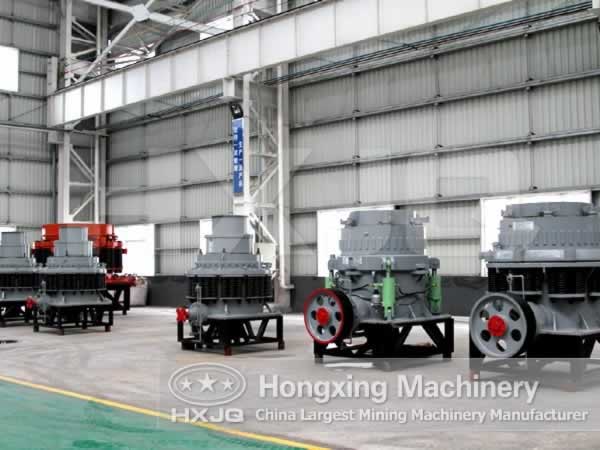 When our new series of cone crusher is working, the motor drives the eccentric ring to spin through V-belt, big belt wheel, transmission shaft, big bevel gear and small bevel gear. Our cone crusher is a new product which is based on introducing domestic and foreign advanced technology. It uses the spring insurance device, hydraulic cleaning chamber, as components selection and structure design is reasonable, which is economical and practical.
The hydraulic cone crusher of our company always walks in the forefront of mining machinery market at home; according to market needs, it forms a complete product chain which gives priority to the hydraulic cone crusher, sand making machine, mobile crushing station and construction waste treatment equipment and makes vibrating screen , feeder and complete product line as complementary products.
The crushing cone of cone crusher spins by the force of eccentric ring, which makes the crushing wall approach and leave rolling mortar wall to and fro, so the materials get impacted and broken in the crushing chamber formed by fixed cone and movable cone. The material are discharged from the bottom after several times crushing by cone crusher until they get the required grade.