Dry and Wet Magnetic Separating Process
The magnetic separating processing is a combination separating method of dry and wet magnetic separating for ore-dressing of iron, mainly used for the third level magnetic separating process of mineral powder. The magnetic separating process is one of the most widely used and most mature technology, which is mainly used for the sorting of magnetic minerals. In the magnetic separating process, magnetic separator plays a much important role. The magnetic separating process has obvious advantages of less water, low cost, low pollution, high efficiency and high yield. Therefore, the magnetic separating process is a creative technique with high production efficiency, good product quality and no environmental pollution.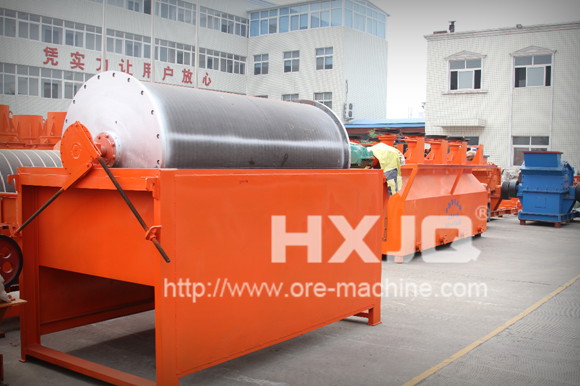 Magnetic Separating Process: First of all, the mining ores will be crushed by the jaw crusher . When they get a reasonable degree, they will be sent to the ball mill through elevator and feeder, and be smashed and grinded by the ball mill. After being grinded by ball mill, those materials will come into the next process-classification. According to the theory that the solid particle with different specific gravity has different sedimentation rate in the liquid, the ore mixture shall be washed and classified by the spiral classifier. After being washed and classified, due to the different magnetic susceptibility of different ore, when the ore mixture passes the magnetic separator, the magnetic substance in the ore mixture will be separated by the magnetic force and mechanical force.
This magnetic separating process is designed based on the standard procedure process. Hongxing Company also can design the process according to the annual output and demand of customers.