Creative Design of Our Hydraulic Cone Crusher
Recently, our company has introduced the world level designing and manufacturing technology for our single-cylinder hydraulic cone crusher. Our new hydraulic cone crusher has been welcome because of its various structural features.
The adjustment of the discharging mouth of the cone crusher can be completed through operating the control valve of the hydraulic system. If the iron is stuck in the discharging mouth, it can be removed by manipulating the hydraulic operating valve to control the movable cone to move up and down, thus reducing the labor strength and technical difficulty of the workers.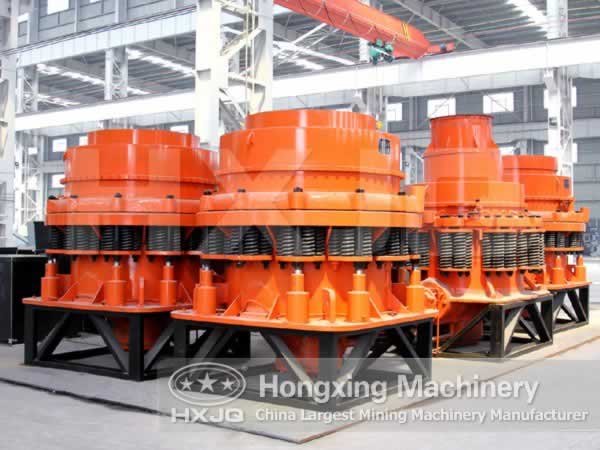 Our hydraulic cone crusher can change the eccentric distance through changing the eccentric sleeve to adapt to the requirement of crushing different materials. Due to the adoption of hydraulic adjustment and hydraulic protection, complicated adjusting ring, supporting ring and spring device are eliminated, so that single-cylinder hydraulic cone crusher has simplified structure and light weight.
There are bearings both above and under the principal axis, thus improving the force situation of the principal axis of the hydraulic cone crusher which uses sealed chamber structure to prevent dust, so that it is more reliable than the water sealed structure of the spring cone crusher.
Since the principal axis of the movable cone uses simple supported beam structure, its eccentric angle is small, and generally speaking, the eccentric angle is only one second that of the spring cone crusher, for this reason, the crushing cone is relatively steep and the crusher is longer, thus improving the uniformity of the ore crushing.