Spiral Separator
Overview: Spiral Separator, also named classifier, is one of mineral processing equipment mainly composed of drive unit, spiral body, trough, lifting body, the lower bearing (bearing) and discharging valve, with characteristics of simple structure, reliable performance, convenient operation and so on. Screw separator is the equipment for mechanical classification in virtue of the principle that solid particle with different proportion has different sinking speed in liquids. Spiral classifier can mainly be divided into four types: single spiral, high weir double spirals, immersed single spiral and immersed double spirals.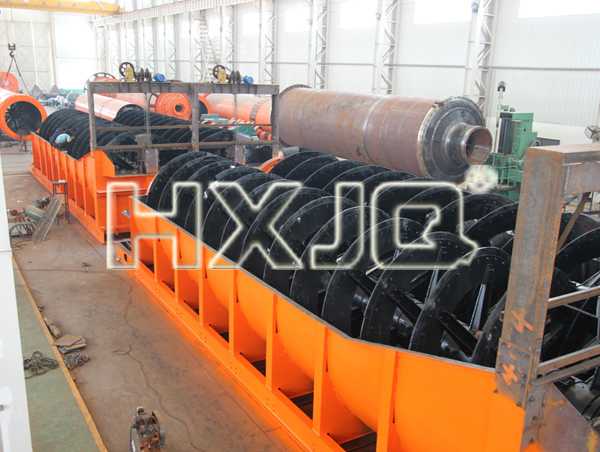 Working principle: Spiral separator is in virtue of the principle that solid particles with different proportion have different sinking speed in liquids, therefore, the fine ore grain will be floated and overflowed with the water outflow, while the coarse ore grain will be sank in the tank bottom. The spiral pushes material grinded in grinding machine to the upper part and discharges it.
Application: Spiral separator is widely used in mineral processing plant by forming closed loop with ball mill to diverse sand mine, or used in gravity concentrators to classify ore and fine clay, or used in metal ore dressing process for particle size grading of pulp, as well as desliming and dehydrating operation in ore washing process.