Circumgyrate Cement Kiln
Circumgyrate cement kiln (Cement rotary kiln) is main equipment of cement production line, and its technology is mature. Circumgyrate cement kiln (Cement rotary kiln) is featured by stable operation and high yield, and the cement rotary kiln produced by Hongxing can make the device more efficient, increase the operating efficiency by 11%, reduce energy consumption by 16%, and increase production by 8% . Cement rotary kiln produced by Hongxing is composed of kiln head, cylinder, kiln sealing device, roller supporting device, motor reducer gear, pre-heater, cooling device and kiln body. The kiln body is with an angle to ensure uniform materials to flow into the kiln inlet, and the auxiliary roller supporting device can prevent deformation of the kiln under high temperature and gravity. The process of Hongxing rotary kiln is with advanced technology, reliable quality and high yield.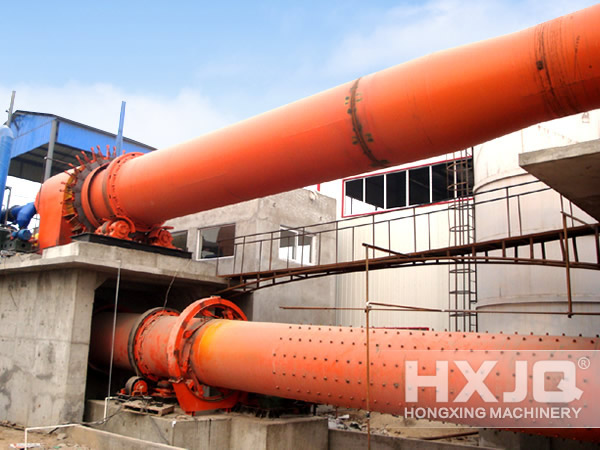 Circumgyrate cement kiln (Cement rotary kiln) is widely used in calcining lime, drying slag and smelting metal. The cement rotary kiln can burn a lot of waste and garbage, which not only can reduce the quantity of waste, but also is available for rotary kiln to achieve waste utilization for the purpose of waste resource.
Cement rotary kiln process: 1. Crushing quicklime is an important stage for the production of cement; 2. Preparation of raw materials; 3. Homogenization of raw material; 4. Cement calcining; 5. Cement grinding; 6. Cement packaging.
The working principle of cement rotary kiln
Since the raw material is made of mud, the adaptability of its non-uniform raw material is good. When using the wet way, it will evaporate slurry water of 30% to 40%, which needs to consume more calories and consumption cost of 1/2 to 1/3 compared with shaft kilns. Wet production is featured by the high heat consumption, big energy consumption, big water consumption, good production, and less consumption of water resource.