Tyre Mobile Crusher
Tyre mobile crusher is mainly used in the material processing operation which needs to be relocated in the industry of metallurgy, chemical, building materials, utilities, especially for the operation of liquidity stones used for the highway, railway, hydropower project, etc. The users can adopt a variety of configurations based on the type and scale of the raw materials to be processed and the different requirements of finished materials.
The tyre mobile crusher is featured with full range of mobile crushing products, so it can meet the needs of most users. Our company can provide tire (semi-trailer) mobile crusher station equipment with a large flexibility in installation, and the tire (semi-trailer) mobile crusher station is efficient both in coarse crushing and fine crushing.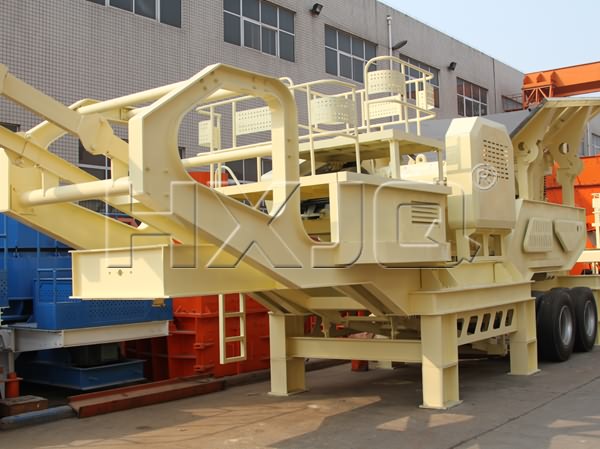 The application fields of the mobile construction station are: 1, the stone portable machine is widely used in the operation of mining and opencast coal mining; the recycling of construction waste, earthwork, urban infrastructure, roads or construction sites; 2,making use of the river pebbles, rocks (limestone, granite, basalt, andesite, etc.), ore tailings and stone chips for the artifical sand making; 3,the peeling crushing of the cement concrete road reconstruction and the crushing of the asphalt concrete.
Features:
1.High mobility, strong adaptability and flexible configuration.
2.The integration of the entire unit.
3.Reducing the costs of transportation.
4.The operating role is direct and effective.
5.The performance is reliable and it is easy to maintain.
Tyre mobile crusher adopts the operating type of integrated group practices, which helps to eliminate the installation operation of the complex field infrastructures like split components and auxiliary facilities, so as to reduce the material and time consumption. The reasonable and compact space layout of the unit maximizes the optimization of the facility configuration space. The simple and compact facilities layout expands the space of the materials transportation.