Structure and Functions of Composing Parts of Gyratory Crusher
Gyratory crusher is mainly used for coarse crushing and it belongs to coarse crusher which is mainly used for crushing all kinds of ores and rocks with medium or above medium hardness. It is mainly composed of transmission part, engine base, eccentric sleeve part, crushing cone, central frame, beam part, driving part, oil cylinder, hydraulic part, pulley part, electrical part and thin oil lubrication part. The structure and function of each part are as follows: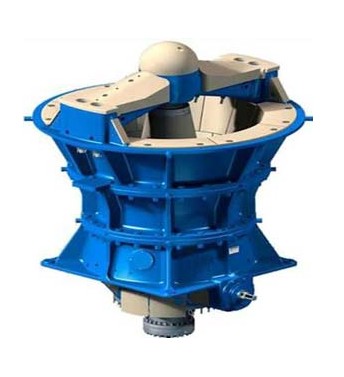 1) Transmission part
The main function of transmission part is that when the eccentric sleeve rotates, it drives the main shaft to rotate together with the movable cone spindle pressed on it. The central line of the movable cone will rotate along the cone trajectory with the fixed hanging point on the beam as the vertex.
2) Engine base
The engine base is the main component of cone crusher and it is fixed on the ground by foundation bolts. There is steel lining sleeve set in the sleeve of the engine base, and eccentric shaft sleeve rotates in the lining sleeve.
3) Eccentric sleeve part
Eccentric shaft sleeve is a major part that bears the crushing force.
4) Crushing cone
Crushing cone is supported by the bottom hydraulic oil cylinder and its upper part inserts into the cone lining sleeve of the beam central hole. When the crusher rotates, as the bottom part of the cone lining sleeve is cone surface, the requirements of rotary pendulum motion the movable cone can be met.
5) Central frame
There are four parallel rows of lining plates inside the central frame. When installing the lining plates, finally install the base plate to ensure the firm combination. The downmost row of plates supports on the boss of the bottom of the frame and the upper row inserts into the convex edge on the upper part of the central frame, so it can sustain the pushing force, crushing force and vertical separating force produced by frication when crushing ore.
6) Beam part
Fix the beam on the central frame with pin rolls and there are lining plates on the beam reinforcement and the outer ring.
7) Base part
The base part gives us mutual location and base level of each part of foundation bolts as well as the flexure value of the equipment.
8) Oil cylinder
Oil cylinder is installed at the bottom of the frame and it supports the crushing cone and bears the axial force when crusher works.
9) Pulley part
Pulley parts are used to remove the oil cylinder and it is composed of idler wheel, slide track and car.
10) Lubrication parts
To lubricate all the frictional parts, the crusher is equipped with special dry and thin oil lubrication device.
11) Electronic control system
The electric control system has three operation ways: local manual control, local automatic control and remote control from the central control room.