High frequency Screen Is Best for Ore Dressing
Traditionally, spiral classifier is often used to classify in nonferrous metals mine, but due to the low classifying efficiency of this equipment of ratings, the coarse finished mineral will be cycled in classifier machine and grinding miller machine, resulting in waste of raw materials. Therefore, after years of scientific research on the basis of the results achieved in laboratory experiments, Hongxing experts decide to use high frequency screen classification as classifying equipment of molybdenum and tungsten in ore dressing process.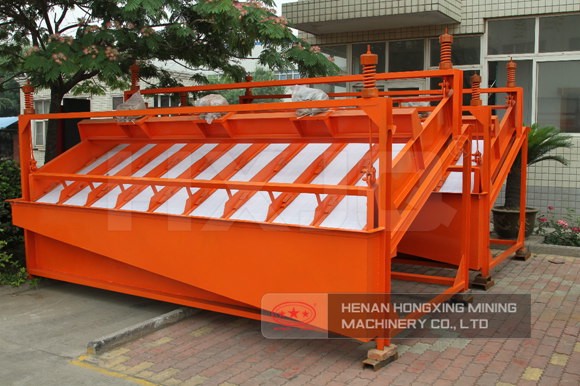 High frequency screen is short for high frequency vibrating fine sieve, which is a type of concentrator grading equipment. High frequency screen sorts the materials with different grain sizes through different screens with different widths of sieve surface. In the grinding circuit, control the mineral grinding and grading, so coarse adherent materials will be returned for regrinding. Fine materials can be discharged in time to avoid further crushing caused by grinding, so as to improve concentrate grade.
After using high frequency screen as classifier, oxide ores and molybdenum concentrate grade and recovery rates were increased significantly, flotation ore with -30um sludge concentrations has fallen by nearly half. Therefore, high frequency screen can create good environment for the flotation of molybdenum and tungsten oxide ore, and increase concentrator capacity while significantly increase the separation index.
The unique mineral properties of molybdenum oxide and scheelite determine that the choice of grading equipment for mineral processing is very important. As classifying equipment, high frequency screen or high frequency sieve, has high grading efficiency, which can improve processing volume of dressing factory, while reduce secondary slime volume from seriously interfering floating process of oxidation mine, so as to greatly improve floating environment of oxidation mine. In addition, high frequency screen can improve the recovery of useful mineral, so that improve economic benefits of plants.