Hongxing Company Held 2012 Annual Symposium
In February 4th, 2013, Hongxing Machinery Company, the professional crushing machine manufacture, held 2012 annual symposium at the Four Seasons Hotel. The brilliant, innovative and beautiful performance in annual symposium brought a visual feast to the present leaders, guests and audience.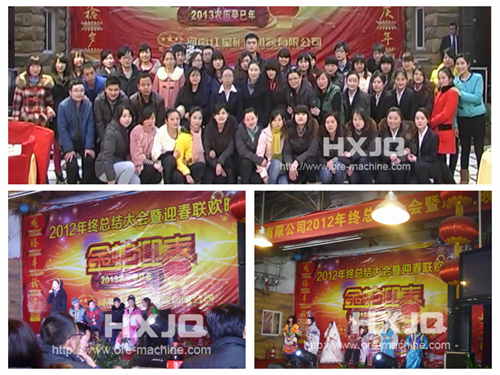 Yang, president of the company made a speech to sum up the past and look to the future as well as wishing the whole company to continue to grow and make progress in work and in life!
Annual symposium started with a Crystal Drum performance, the passionate performances win the hot applause, firstly bringing the atmosphere to a climax. The Grateful Heart acted by Networks department expressed their thanksgiving to the employees, the company and life; the song To Love Each Other as A Family expressed the love of employees to our company this big family; modern drama Recruitment completely pushed the party to climax by its watery, passionate as well as graceful performance, winning the bursts of resonate by audience!
The visual gluttonous feast not only showed honesty youth style, showed the harmonious relations of all my colleagues, but also conveyed the yearning of all employees on the company's future!
Humane management and harmonious relationship are important part of Hongxing Company; like every young company in a period of rapid development, Hongxing has great hope in front, though it is with twists and turns on the way into the future. Hongxing is the home of the employees, everyone will not be alone with a common goal.