Working Principle and Characteristic of Compound Cone Crusher
The compound cone crusher has a very wide range of application; every model includes coarse, medium, fine and superfine four crushing chamber to be selected. It adopts the best combination of crushing frequency and eccentricity so that the materials can be broken to be finer; crushing production has a higher yield compared with similar models, also enhance the laminated crushing effect between particles, improving three-dimensional shape of crushed materials. In addition, hydraulic insurance, hydraulic locking, hydraulic adjustment and hydraulic cavity clearing device make the operation more automated. In the case of normal use, the device adopts optimal design, which makes fault-free run rate be more than 95%.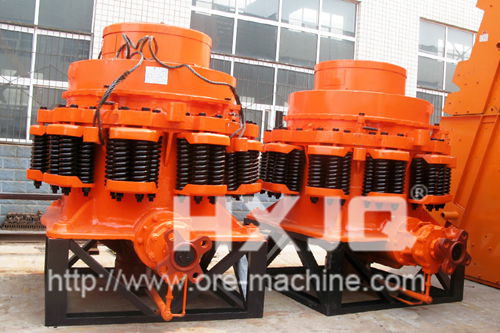 Working Principle
Materials vertically fall into the high-speed rotating impeller from the top of machine, under the action of high-speed centrifugal force, they produce high speed impact and crushing with the other part of materials which split-flow around the impeller in umbrella form; having crashed each other, materials are discharged from the bottom.
Characteristics:
1. Higher capacity, better quality.
2. The safety device greatly reduces the downtime.
3. The body is cast steel structure; overloaded part is set with stiffeners.
4. It contains the adjuster, which can quickly adjust the discharging size.
5. It is equipped with spring-protection device.
6. It is with complete lubrication system so that the machine could automatically shut down when the temperature is too high or the flow rate is too slow.
7. The sealing performance of internal structure is good, it can effectively protect equipment from dust and other small particles.
8. Longer service life and strong applicability.