Hongxing Mill Promotes Industrial Development Process
The basic equipment for deep processing of ore includes crusher and mill; the former is used in earlier stage and the later is for fine processing. In order to keep up with the development trend of large quantities of mineral processing, production and processing efforts of crushing machine and milling machine need to be improved to a greater degree, which promote the crusher and mill production enterprises to accelerate technology research and development and introduce more efficient milling equipment.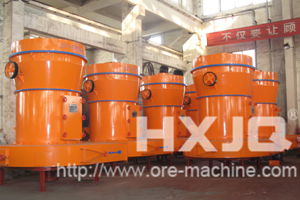 Mineral resources are firstly crushed by crusher and mill, and then processed through fine technical means including magnetic separation and roasting so that the utilization can be improved significantly; it is undoubtedly a good opportunity to reverse the passive situation of mining companies at home.
Overpressure trapezium mill, European type trapezium mill is suitable for processing non-flammable and non-explosive materials with hardness below Mohs seven and humidity below 6%, such as limestone, calcite, marble, talcum, gypsum, barite, fluorite, zeolite, manganese ore, ilmenite, phosphate rock, bentonite, starch, kaolin, etc.
Hongxing machine has always insisted on the investment in technology research and development, its production of large and medium-sized mill equipment are renowned at home and abroad for a long time; overpressure trapezium mill and European type trapezium mill are improved on the basis of traditional raymond mill and modern casting techniques, achieving comprehensive upgrade in structure. The overpressure trapezium mill is a new generation of highly efficient ultra-fine powder processing equipment that independently researched and developed by Hongxing machine; it sets the advantages of high-speed impact mill and jet mill into one, and forms its own unique crushing destroy mechanism.